About Us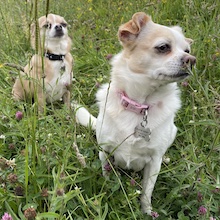 Welcome to Rocky & Roxy we are super excited to offer our range of personalised products, which we add to all the time..
Hi, I am Rocky the little caramel chihuahua and Roxy is my step sister she's a bit bigger than me, we think she is a cross between a whippet and a chihuahua - she's quite timid as she suffered some abuse and a bit daft too..!
I am a bit aggressive as I am fearful of lots of things (but I'm working on that...!)
At the moment when we are not play-fighting, sleeping, eating, looking out the front window or walking we are busy with the business and our human, Donna, is doing the typing for us as we tried to learn to touch type but our paws are just too big on her little keypad - !!
We decided to go into business together as we met in the foster carers home, Ruth, who is lovely from wonky pets http://www.wonkypetsrescue.com We really liked each other from the day we met. Donna adopted us at the end of May 2018, even though I was difficult she said she would try her best to show me how to behave and not be in fear of everything - I hope it works otherwise I don't know who would put up with me, we have settled down a lot now and really quite happy with our simple life...!
We decided that we want to make and sell products for pets and people incorporating personalised products! We have been extremely busy designing and making the new products, we are a bit impatient, but she is training us to be better behaved. Its not really our fault as we have had a bad start in life but she takes us for nice walks and she is working on our anxiety issues, especially mine as I growl and can nip - she said that I must have PTSD....
Please follow our Instagram ....!!